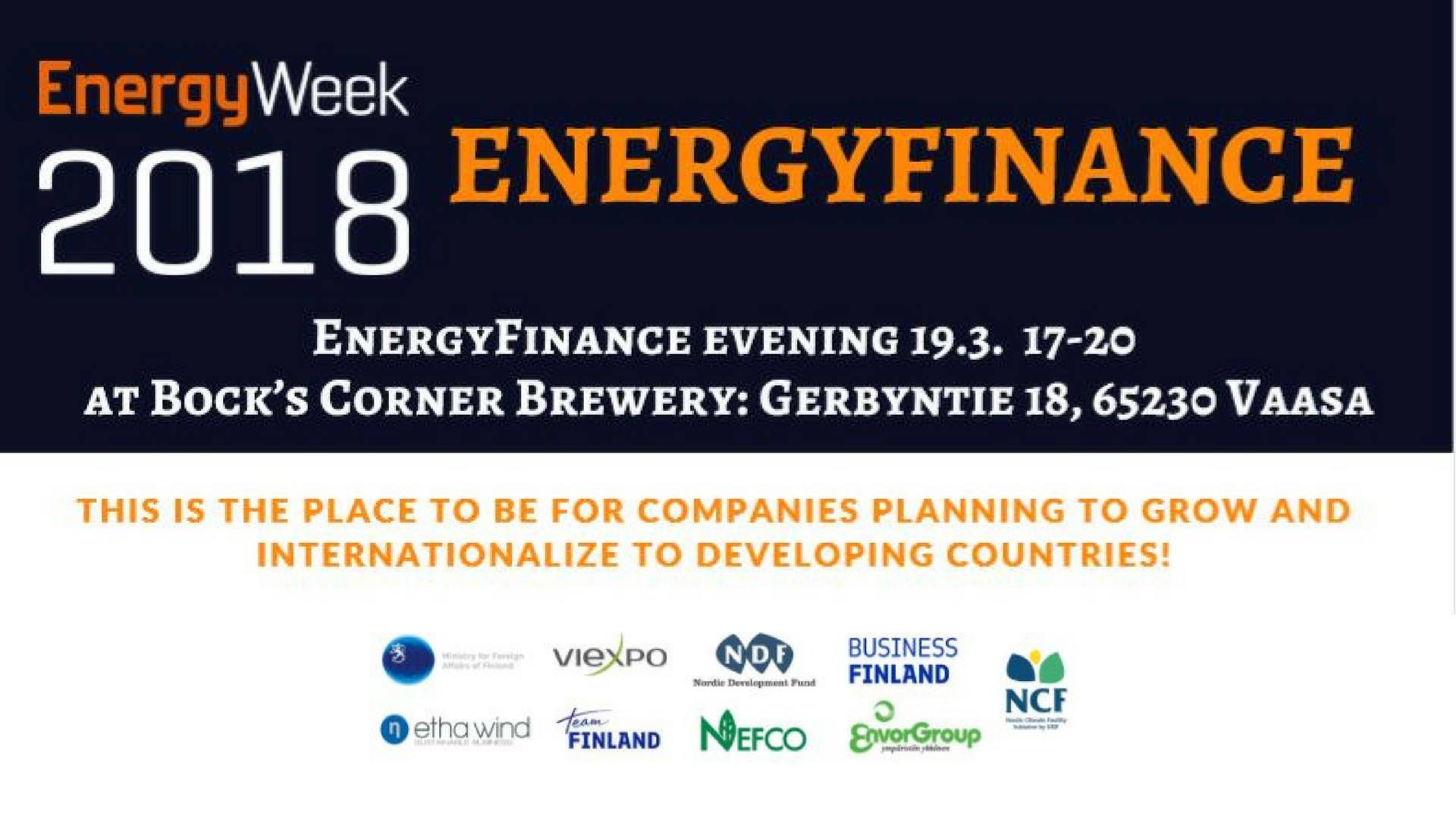 25 Apr

EnergyFinance-evening 19.3.2018b

Great things, such as building of an energy cluster here in Vaasa, take time. Today, we are proud of our energetic Ostrobothnia, where the turnover from the energy cluster is approximately 4.4 billion euro and the export rate over 80 %. Together with the Ministry for Foreign Affairs of Finland, Viexpo organized an EnergyFinance-evening at Bock's Corner Brewery on 19.3.2018. During the EnergyFinance- evening the audience got to hear more about how to possibly finance the export and growth in the emerging markets.

The Ministry for Foreign Affairs

Purpose of financial instruments at the Ministry for Foreign Affairs, is to work as tools for risk management, as support mechanism and as triggers for commercial finance in the emerging markets. The Ministry for Foreign Affairs offers two different types of financing. The first is rapid project financing (e.g. BEAM, EEP & Finnpartnership), which aims for the development of new initiatives and the latter is investment financing (e.g. FinnFund & PIF), which is relatively long-term financing offered to strengthen the ongoing projects and businesses.

Read more: http://formin.finland.fi/public/default.aspx?nodeid=49335&contentlan=2&culture=en

Finnpartnership

Finnpartnership provides matchmaking service and Business Partnership Support for companies expanding their operations to the emerging markets. Finnpartnership is financed by the Ministry for Foreign Affairs and is managed by Finnfund. For instance, in fragile states such as Afganistan, Haiti and Iraq, Finnpartnership's support grants are up-to 85% for both SMEs and large companies. In Low Income Developing Countries in turn, the grants are up to 70% for SMEs and up to 50% for large companies. "Succeeding together" is what Finnpartnership aims for. In addition to other services, Finnpartnership organizes application workshops every month.

Read more: http://www.finnpartnership.com/

Nordic Climate Facility (NCF)

NCF is a challenge fund targeted to innovative climate change projects. The amount of grant provided varies between 250 000-500 000 euros. NCF offers early stage-financing for projects in 21 different countries located in Africa, Asia and Latin America. The projects can for instance, focus on piloting, demonstration, replication and scaling-up. The aim is to prove the sustainability of a business concept and pursue the business concept after the completion of the NCF project. Sustainability of the business concept can refer to technical, economic, environmental or social sustainability. The leading partner applying for the grant must be a Nordic organization and the other party should be a local organization. The next call for NCF 8 will be announced in May 2018.

Read more: www.ndf.fi/

The Nordic Environment Finance Corporation (NEFCO)

NEFCO is an International Financial Institution, which aims to increase environmental awareness in Eastern and Central Europe. NEFCO provides results-based green financing to projects reducing emissions that are harmful to the environment. NEFCO's financial instruments include, for instance, loans and equity, grants for internationalization (Nopef), buyers' credits and project support/grants. Nopef aims to strengthen the international competitiveness of Nordic SME's and its focus is on green growth (e.g. energy efficiency, renewable energy, water treatment & building technology).  Grants, which are funded by the Nordic Council of Ministers, are targeted to feasibility studies outside EU/Efta areas.

Read more: www.nefco.org/

Energy and environment partnership trust fund (EEP)

Multi-donor fund providing early-stage grant and catalytic financing for innovative clean energy projects. EEP Innovation grants can be used for feasibility studies, piloting, demonstration and replication and the amount granted vary between 200 000 – 1 000 000 euros. Catalyst finance in turn is meant for scale-up. 14 different clean energy technologies have been supported within the past years ranging from solar PV, biogas, wind power, solar thermal to solid biomass. EEP has invested more than 57 million in over 200 different projects.

Read more: www.eepafrica.org

Business Finland's Energy Program

Business Finland's Energy Program aims to accelerate the level of export for Finnish companies seeking growth in developing countries. Examples of 2018 focus countries are India, Mexico, Vietnam, United Arab Emirates and South Africa. The program focuses on feedstock processing, energy generation, biofuel production, smart grids/ renewable energy and smart buildings. The program offers, for instance, project and financer screening, visits to priority countries, buyer visits to Finland, various workshops, joint offering development and media visibility.

Read more: https://www.businessfinland.fi/en/for-finnish-customers/services/build-your-network/bioeconomy-and-cleantech/energy-program/

If you are interested to know more about financing for export and growth to the emerging markets, do not hesitate to contact Viexpo's International Business Advisor Minna Jakobsson minna.jakobsson@viexpo.fi, 0505727404.

Currently, we also offer a great opportunity for companies looking to get more information about South Asian markets, with the help of our trainee Arshed Iqbal. Companies can obtain more information about the markets in that area and discover the contemporary opportunities and challenges. According to Mr. Iqbal renewable energy, for instance, has a great demand in South Asia.