Jokipiin Pellava is a family business founded in 1920 in Jalasjärvi by Asser Laurila that manufactures and sells linen products. In the home country sales are mostly built around customized linen products for personnel and business gifts, the so-called OmaDesign concept. Exports, on the other hand, come to a great extent from selling sauna textiles via resellers. The biggest export market area regarding these is found in Central Europe around Germany. In addition, great efforts have and are made to gain growth in Japan, and the company has also recently sought for new openings for their OmaDesign concept especially in Sweden and Germany. In its export efforts the company has utilized Viexpo's services in many ways during the years. In this article focus is put on export projects for groups of companies and market analysis. We interviewed Timo Laurila, who has had a long career in the company, for the article.
Jokipiin Pellava's and Viexpo's collaboration date all the way back to Viexpo's early days. When Timo Laurila began working in the family business as a sales director in 1987, the company was already used to utilizing Viexpo's services. At that time, they went with Viexpo to export exhibitions in other Nordic countries, and Viexpo also helped them with finding new contacts. During the years the intensity of the cooperation has shifted depending on Jokipiin Pellavas needs and Viexpo's service offerings. It has been more frequent in recent years as the company has participated in Viexpo's two export projects for groups of companies to Japan and ordered market analyses from Viexpo.
Export projects to Japan
Jokipiin Pellava has already since the 1990s had sales in Japan via an importer. However, in recent years the focus in the importer's product category has shifted and there has been changes in personnel, which has meant that Jokipiin Pellava's products and the importer's customer segment did not meet in the same way as before. Moreover, there has been a big sauna boom in Japan for some time. Based on this the company saw it as important to join in the first "From Ostrobothnia to Japan" -export project.
Through the export project we wanted to have the opportunity to discuss with the current importer and with potential new importers, says Timo Laurila.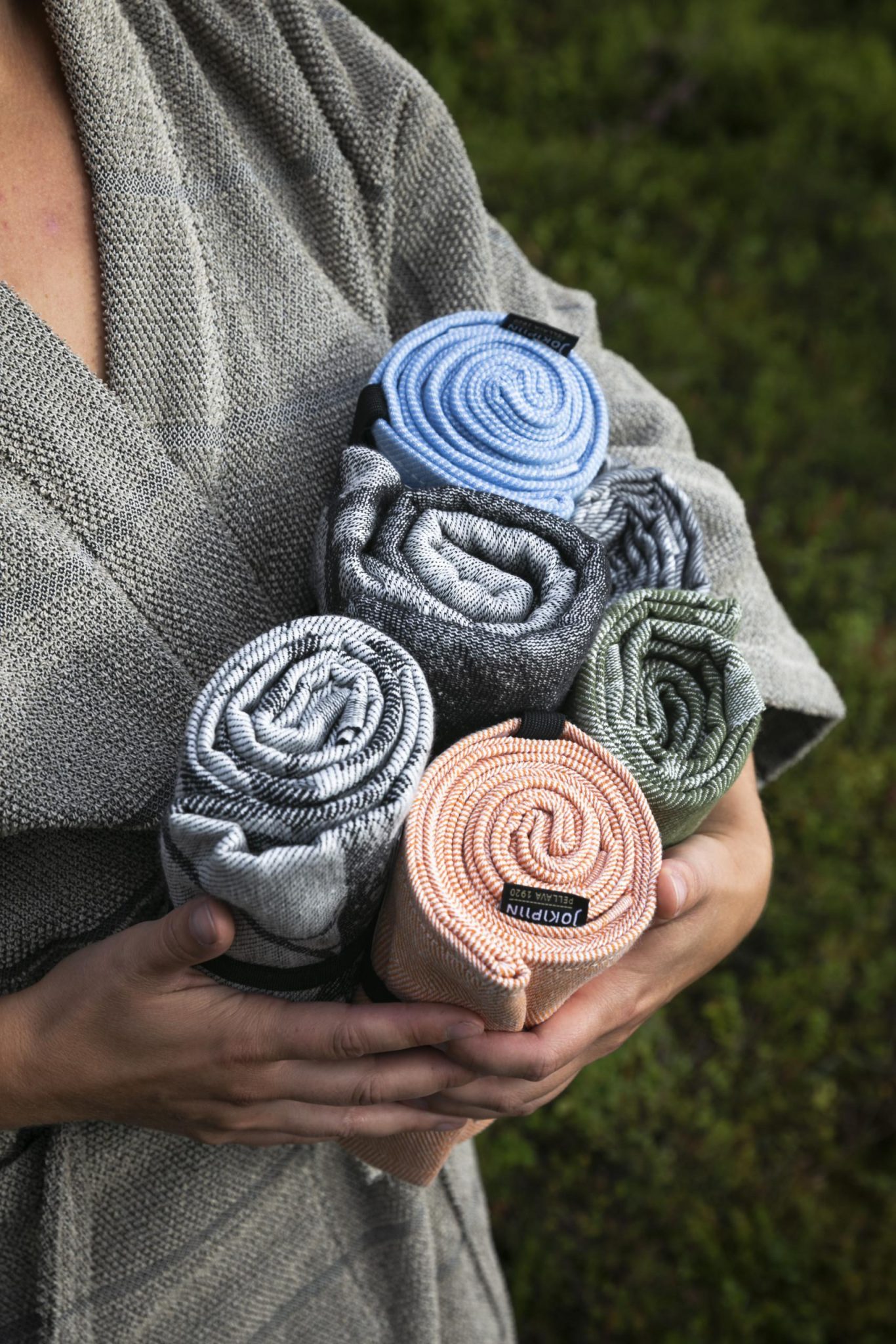 After a comprehensive preparation including getting to know Japanese business culture, practicing elevator speeches, and making marketing materials, the project culminated in a trip to Japan. During five days representatives of Jokipiin Pellava met with about 40 companies. Even though they were not able to find a new importer, they were able to end their relationship with the current importer in a correct way. They are still good friends with that company's representative.
The gained market information and different tools were of help also at a later stage when a new importer candidate emerged. After discussions the candidate eventually became the new importer of Jokipiin Pellava's sauna textiles in Japan.
When it became known that Viexpo had plans for a second export project to Japan, Jokipiin Pellava decided to join once again. Timo's son Jussi Laurila had started as the new development manager, and it was good for him to become familiar with the export activities in Japan. Furthermore, the company also wanted to meet their new importer in-person. Due to COVID19, the meetings had until now been held virtually, which meant that live meetings were considered very important.
The reason for joining the second project was to get support for building the collaboration with the importer.
Besides desired meetings the project once again provided the company with new relevant information about Japanese markets and business culture as well as new tools, such as marketing materials, to utilize. There were also important learnings about the influence of COVID19 on the target market.
The world has changed quite a lot in a couple of years, and so has also Japanese ways of acting. Only the fact that you learnt to recognize how they act and how COVID19 has influenced them was very important.
In addition to successful actions Timo Laurila also wants to emphasize the importance of the group.
Within the group, we share information, talk about our own experiences, and ask others how they would do. Now when the second project is on the finish line, it was said in the group that could we keep contact also afterwards, since it would be nice to ask how others are doing and hear their advice.
Also, the project leader, Viexpo's Senior Advisor Carita Pöntiö, gets a lot of praise.
Working with Carita has been easy. She tells things very clearly and it is easy to work with her. Carita is clearly quite good at getting to know people, she can always adapt herself in accordance with the other person.
Market analyses on Sweden's and Germany's markets
Despite working with enhancing the export of sauna textiles, Jokipiin Pellava has also started to work on the export of their OmaDesign concet with the help of project funding from the ELY Centre. To find importers with own sales organizations in Sweden and Germany, the company chose Viexpo as the service provider of market analyses. During the process Viexpo's Senior Advisors Minna Jakobsson and Elina Ruohonen listened carefully to Jokipiin Pellava's wishes and produced based on the information and criteria given customized lists of potential importers in Sweden and Germany. Timo Laurila says that the successful collaboration gave more than they were asking for.
The making of the market analyses went well. We had a tight collaboration with Minna and Elina who both are experienced in exports. We got precisely what we asked for, that is contact lists made in accordance with our criteria. In addition to that, we receive quite a lot of information about, for instance, how these markets work.
The company utilizes the contact lists for direct contacting. Moreover, they have been able to utilize the lists of Swedish contacts also at an exhibition.
Finally, Timo Laurila wants to give some tips for companies that are planning or already doing exports. He emphasizes low threshold activities that everyone can do. Subscribing to Viexpo's newsletter and participating in events, such as, webinars are good actions. He also encourages companies to be in contact with Viexpo's Senior Advisors. For him this usually means a call or an email to Anne Viitala, who operates in the region of South Ostrobothnia.
It is the low threshold. When you are thinking if this product could be exported or need some market information, you just take contact with Viexpo's Anne and ask.
Read more about Jokipiin Pellava's operations and products: https://jokipiinpellava.fi
Read more about Viexpo's export projects for groups of companies https://viexpo.fi/en/internationalisation-services/export-projects-for-groups-of-companies/ and market analyses https://viexpo.fi/en/internationalisation-services/market-analysis/