Tämä tapahtuma on mennyt.
Nordic Battery Belt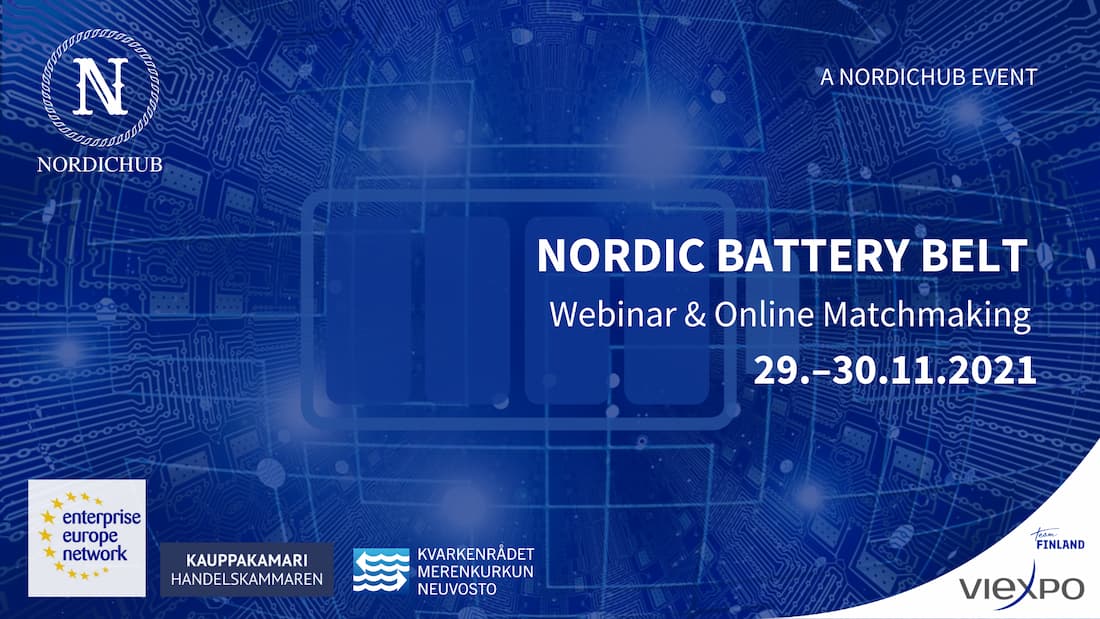 Nordic Battery Belt
– Building the Scandinavian Silicon Valley of the Battery Industry
The green shift is certainly on the rise and that offers tremendous opportunities for the Nordic countries. We are seeing a new industry being shaped that will have a huge impact, not only in the Nordics but globally as well.
These huge investments will in the early stage, not only require efforts in building new infrastructure, but also new logistic solutions. In the next phase this new ecosystem will require a new way of working together cross different industries and between companies and clusters.
This will bring forward both opportunities and challenges that we need to overcome. Through this event we want to offer an opportunity for everyone to get involved. In our matchmaking session we want actors from all Nordic countries to have the opportunity to connect and plan their future in this new ecosystem.
Program 29.11.2021 at 10.00–12.00 EET
Moderator – Paula Erkkilä, Ostrobothnia Chamber of Commerce
Opening words – Kristian Schrey, Viexpo
EGTC as a facilitator – Mathias Lindström, Kvarken Council
"What happens below the surface-, how to handle an rapidly growing ecosystem with existing and new businesses" – Peter Karlstén, Skellefteå municipality
Make battery production greener – Marko Kuokkanen, GigaVaasa
Transforming existing business into the future and developing infrastructure – Jonne Sandberg, City of Kokkola
"How can clusters play a role in developing the Nordic Battery belt?" – Kristianne Paasche, Innovation Norway
"How repurposing enables maximum value creation from every battery" – Jørgen Erdal, Repack AS
Matchmaking sessions
29.11.2021 at 13.00–17.00 EET
30.11.2021 at 9.00–13.00 EET
The event is in English and free of charge. Registration is required.
The registered participants will receive the link to the webinar 1–2 days before
the event. Register here.
For more information:
Kristian Schrey
CEO
kristian.schrey@viexpo.fi
+358 50 572 8253
Aiheeseen liittyvät Tapahtumat